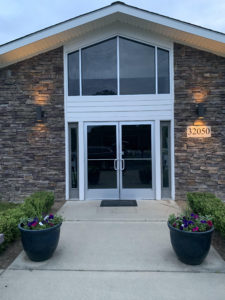 Woodbrooke Hills provides a positive community atmosphere and friendly engagement in a beautiful outdoor environment devoted to family, fun,  fitness, and health. We invite you to contact our membership chairperson by email at membership@woodbrookehills.com. 
Woodbrooke Hills is currently full.  If you are interested in being placed on the waitlist, please send a note to membership@woodbrookehills.com.  When a bond becomes available, you will be contacted.  Thank you for your interest in our club!
Questions and Answers from the elections:
Cleanliness of bathrooms/facility –
We hear it loud and clear. The bathrooms are small area to
accommodate a large volume. We resurfaced the floor to make it less slick, but
the grit has an amazing ability to hold on to papers and debris like glue. But
we'll brainstorm on this one.
The rest of the facility is big and we need everyone's help
to keep it clean – we are all owners of the club and messes/litter comes from
within. But if you notice something that you need help with, let us know.
Hours –
The hours have been a challenge since Covid, mostly because
we can't get staff. We are committing to more late nights next summer.
Unfortunately, a majority of our entire staff goes back to school by Labor Day so we
aren't able to stay open in September.
 Speakers –
We actually blew out the speakers last year! We replaced the
amp and the speakers at the end of the season, and we're hopeful it will work
better next season.
 More Shade –
The shade is a delicate dance between people who want more,
and those who don't. We'll keep monitoring it.
 Splash Pad –
We have a lot of feedback that people want a splash pad. We
would love it too! We are trying to get quotes, but it is pretty pricey. If you
have any contacts, let us know and we'll give them a call! Otherwise, we'll
keep you posted.
 Pickleball –
There actually will be 4 courts painted for Pickleball and
will be available to rent early in the mornings (5-7AM) for adult members and guests.
Otherwise during pool hours you can play as you wish! You'll see a new
basketball hoop too!
 Guests –
Great feedback on the guest policy. We're going to raise it
to 10 guests on all non-holidays (so every day except 3). Thanks!
 Concession Stand –
There are a lot of problems with the concession stand, so we
are repurposing it. That said, if you have suggestions for food or drinks you'd
like to see please let us know. The food has to be individually packaged based
on our food license.
 Cameras for the parking lot –
Duly noted, we'll look into it.
 Communications –
As a few noted, communications was a recent struggle. This was
part of the reason we wanted to combine the communications and secretary roles
so the person taking the notes could publish it as well. In the future, we hope
that the combined role helps streamline the process. That said, meeting notes
are posted on the website (below) so you can keep up to date with happenings. 
CY2023 Board of Directors
President – Sidra Lewis
Vice President – Mike Carcone
Secretary – Erika English (communications@woodbrookehills.com)
Treasurer – Rebecca Barens (treasurer@woodbrookehills.com)
Membership – Brennan Harvath (membership@woodbrookehills.com)
Building & Grounds – Nikki Wagner
Tennis – Sarah Marble (tennis@woodbrookehills.com)
Swim – Erica Saum (swim@woodbrookehills.com)
Club Manager – Kelly Salter (manager@woodbrookehills.com)
Woodbrooke Hills Bylaws
Click here to see current bylaws.
Woodbrooke Hills Rules and Regulations
Click here to see current rules and regulations, updated November, 2022.
Other Important Documents
Woodbrooke Hills Approved Budget CY2022
Woodbrooke Hills Required Waiver of Liability
Woodbrooke Hills 2022 Membership Application
Board Meeting Minutes
Woodbrooke Hills Board Meeting February 2023
Woodbrooke Hills Board Meeting January 2023
Woodbrooke Hills Board Meeting September 2022
Woodbrooke Hills Board Meeting July 2022
Woodbrooke Hills Board Meeting June 2022
Woodbrooke Hills Board Meeting May 2022
Woodbrooke Hills Board Meeting April 2022
Woodbrooke Hills Board Meeting March 2022
Woodbrooke Hills Board Meeting February 2022
Woodbrooke Hills Board Meeting January 2022
Woodbrooke Hills Board Meeting October 2021
Woodbrooke Hills Board Meeting September 2021
Woodbrooke Hills Board Meeting August 2021
Woodbrooke Hills Board Meeting July 2021
Woodbrooke Hills Board Meeting June 2021
Woodbrooke Hills Board Meeting May 2021
Woodbrooke Hills Board Meeting Apr 2021
Woodbrooke Hills Board Meeting Mar 2021
Woodbrooke Hills Board Meeting Feb 2021
Woodbrooke Hills Board Meeting Jan 2021