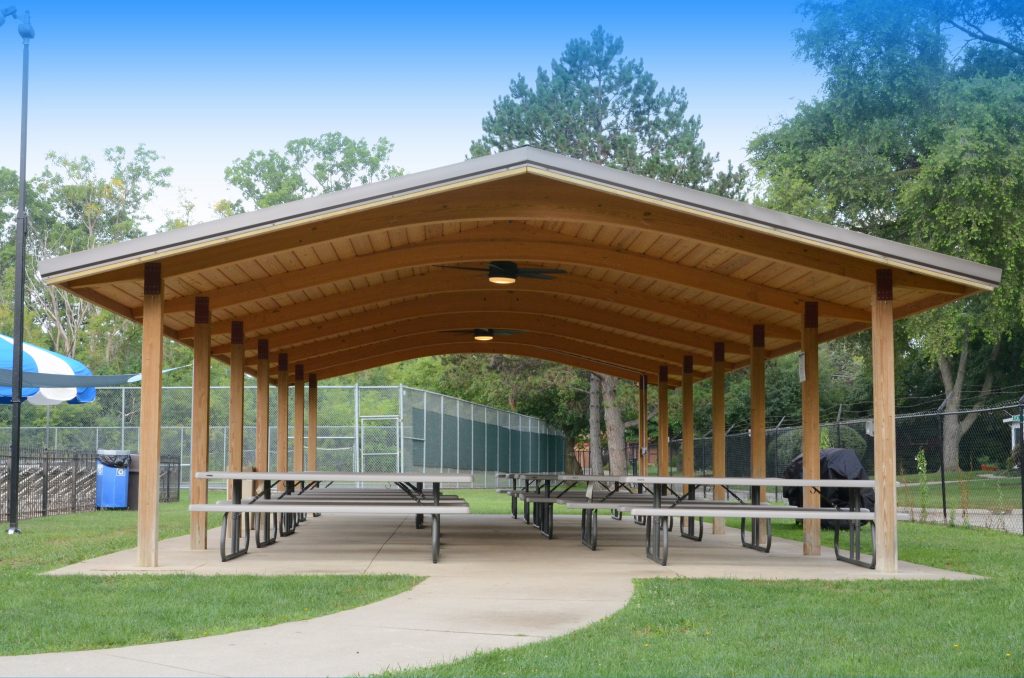 Maximum Five Guests Per Family, Per Day, Without Pavilion Rental
Woodbrooke Hills members may bring up to five guests for the nominal charge of $8 per guest, per day.  Any guest passes previously earned or purchased will remain in good standing on each bondholder's account.  No guest pass is required for our smallest guests (age five and under).  More than five guests will require a pavilion rental.  Pavilion rentals may accommodate a maximum of 50 non-members.
---
Guest Regulations
Members must be present with the guests at all times. When the member leaves the guest must leave with them.
---
Guest Passes, Nanny Passes, and Fees
Individual guests are assessed a fee of $8 per day.  Guest passes do not expire, and will carry over to the next season if unused.  For a nanny pass, members must enroll nanny as part of their online account and pay a fee of $75 for the season.  Up to two nannies may share one pass.  This allows the nanny the use of the club only when the member's children are under their care, or when the nanny is in attendance with the family. 
Please contact treasurer@woodbrookehills.com to add a nanny's name to your membership record in the club database.
---
Private Party Regulations
A party is considered a private party when a member is interested in reserving the party pavilion.
Members entertaining more than five guests will always require a pavilion rental.
All parties may be reserved online and then approved by the club manager.
All parties will be assessed a minimum three-hour charge.
Pavilion may not be reserved when there are swim team, tennis team, or club functions.
There is a party ratio requirement of one adult for every five children under the age of 14.
Additional guards are provided for pool safety only and are not party assistants.
Reservations are required at least one week in advance.
Payment in full is required at the time of reservation.
Payment is refundable in full to your online account only within 72 hours of the party.
In the event of inclement weather or non-functioning pool conditions, the club manager reserves the right to cancel the party. If the party is cancelled by the club manager, a full refund will be given or the host offered an opportunity to reschedule the party.
Party hosts are expected to set up and clean up after the party.  Any additional cleaning service forced upon club staff after a pavilion event may cause additional fees to be incurred by the party host.  Non-payment of these fees may result in membership suspension.
All non-member guests must sign in at the front desk.
All general club and pool rules apply.
Parties are limited to serving beer and wine only as alcoholic beverages.
Hosts may bring in additional seating, tables, or accessories at their own expense. Pre-approval by club manager is required.
---
Private Party Fees
Pavilion Party: Accommodates up to 60 attendees, with a maximum of 50 non-members. This is the count for the entire party attendance, not the number that will be in the pavilion at any given time during the party.  Rental includes six picnic tables, one grill, pool access, tennis court access, and bath house access.
Two three-hour blocks are available, from noon to 3pm and from 4-7pm, for a flat rate of $300 per block.
Additional Rentals:  Once the pavilion has been rented for a party, members have the option to add tent rentals at a flat rate as follows:  
20×20 Large Tent $75 – 10×20 Medium Tent $50 – 10×10 Pop Up Tent $10
Club staff will provide free set up and take down of tents.  Please arrange with the club manager at the time of the pavilion reservation.