Tennis Team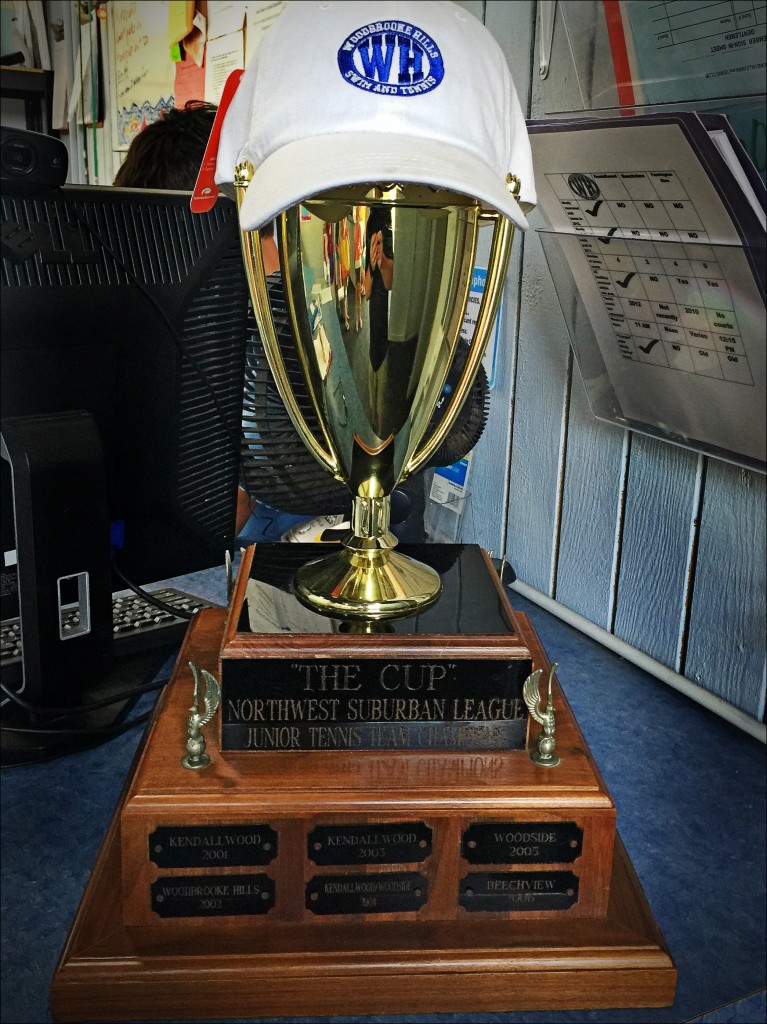 How to register for the 2019 tennis team:
Log into your Woodbrooke Hills membership using EZFacility by clicking HERE
From the home page of your account, click on the Buy button at the left, then choose Packages
Under Packages, click the box next to the Tennis Team option for individuals, then click the cart icon on the right end of the line
After you've added the membership package to your cart, click on the cart icon at the upper right of the screen to view your cart
If you have multiple children playing on the team this year, adjust the quantity of memberships you need to purchase accordingly
Click on Checkout and follow the instructions to pay via credit card
You will receive an invoice via email, as well as an email regarding team shirts
2018 GOLD CUP CHAMPIONS!
About Our Program
At Woodbrooke Hills, everyone can find a fun way to improve their tennis skills and have fun! Opportunities for children include joining the tennis team (6 week commitment), group tennis lessons (1 week sessions), or private/semi-private lessons. In addition, we offer tennis programs and workouts for adults.
Marimar Alonso is in her fourth season as our head tennis professional and tennis team coach. Born and raised in Barcelona, Spain, Marimar was a top junior tennis player and was recruited to play tennis in the U.S. at Michigan State University. After more than a decade of working in cancer research, she returned to her love of tennis and has been a tennis professional for more than 10 years. In addition to coaching USTA junior teams in national and Midwest events, Marimar teaches at Sports Club West Bloomfield.
Our goal is to maintain a ratio of between less than 10 player for each tennis instructor. We're sure this low ratio will prove to be wonderful instruction for everyone and provide a safe and personal learning environment!
Our tennis courts are available at no cost to all of our members and their guests during club hours. With the exception of tennis team practices and Friday matches, along with scheduled clinics and lessons, court time is always available on a first come, first serve basis.
Our goal at Woodbrooke Hills is to offer affordable, quality tennis opportunities for everyone! We strive to maintain an excellent program and nice facility.
Feel free to contact the tennis chair with questions or suggestions.
Tennis Chairperson: Sarah Marble, tennis@woodbrookehills.com
Tennis Team Practice Schedule
Practices will be held Monday – Thursday, beginning Monday, June 18 and ending July 26. Except for vacations and/or illness, players are expected to attend all practices and arrive on time. There will be no practices on July 4.
B TEAM   9:00 a.m. – 10:30 a.m.
A TEAM 10:30 a.m. – 12:00 p.m.
C TEAM 12:00 p.m. –  1:30 p.m.
Team Match Schedule
A TEAM matches start at 10:15 a.m.. Players should arrive at 10 a.m.
B TEAM matches start at 11:30 a.m. Players should arrive at 11:15 a.m.
C TEAM matches start at 12:30 p.m. Players should arrive at 12:15 p.m.
NOTE: For the June 28 match at Woodside, A and B Team players should arrive at Groves High School by 11:45 a.m. for a noon start, C Team players should arrive at 12:45 p.m. for a 1 p.m. start.
For additional information on individual meets, see the Calendar section of the website.
2019 Tennis Match Schedule
| | | |
| --- | --- | --- |
| Friday, June 21 | vs. Beechview |   |
| Friday., June 28 | at Woodside (Groves) |   |
| Friday, July 5 | In-house tournament |   |
| Friday, July 12 | vs. Beechview |   |
| Friday, July 19 | vs. Woodside |   |
| Friday, July 26 | TBD |   |
| Friday, August 2 | Gold Cup (Groves) |   |
|   |   |   |
2019 Tennis Team
If your child is 8 years or older, interested in being part of the Woodbrooke Hills Tennis Team and can commit for the majority of the six-week program, June 17 –July 26, please register by June 2. Your child can be a member of both the tennis team and swim team. To register, please log into your member profile on EZFacility by clicking HERE.
The team is divided into three levels: A, B and C. Each level has a 90-minute practice M-TH, and then a match on Friday. Woodbrooke Hills plays league matches against two other tennis clubs, Beechview and Woodside, and may play other teams in scrimmages. Children play doubles matches against players of similar ability. Although winning the match is fun, no pressure is put upon children and the focus is teamwork, skill improvement and most of all: FUN!
For 2019, there will be three levels of play in the tennis team as follows:
A TEAM: This is the highest level of doubles competition for experienced tournament players. It compares to the high school level of competition, but players may be of any age. Greater mental and physical demands are made on players, and practice includes rigorous drills, stroke refinement and tactics.
B TEAM: This level includes competitive players with match experience. Fundamentals are stressed and players learn to use them in competitive doubles match play. These players are often moved up to the A TEAM as their skill levels rise.
C TEAM: This level is designed for novice players ages 8 and up. Playing on the C Team enables one to acquire basic skills, learn the game, and be on a team with their friends. Everyone gets to play and they will have a great time. Although no experience is necessary, we recommend that children be 8 years or older and have played some tennis prior to joining the team! During Friday matches, doubles play is offered for those who can serve and keep score, but group games are organized for the younger beginners. Matches against other clubs will be played using orange low-compression balls on a slightly smaller court to encourage strategy and longer rallies.
Team Selection
Players that have been on the Woodbrooke team before will automatically start on the team they were on last year. New players should make a guess (beginner=C team, intermediate=B team and advanced=A team). Coaches will observe players for the first week of practice and may move players to another level if needed based on skill and team size. Throughout the season, players may advance to another level of the team as skills improve. All decisions made by the coaches are in the best interests of the individual child as well as the whole team.
THE HEAD TENNIS PROFESSIONAL DECIDES ALL TEAM PLACEMENT FOR PLAYERS
Team Shirts
Team shirts will be passed out during the first week of practice. If you registered late or were unable to pick up your shirt during the first week of practice, or if you have a sizing issue with your shirt, please email tennis@woodbrookehills.com.
Woodbrooke Hills In-House Tournament
The In-House Tournament is the Club's competition between our own players. Any player is invited to test their skills in singles matches against other players in their same age group.
The Gold Cup Tournament
Woodbrooke will compete in The Gold Cup Tournament on Friday, Aug. 4. Woodbrooke's top 12 players (A team and possibly top B team players) compete in this day-long event with our other area clubs. This is a tournament in which players earn points for their home team by winning singles and doubles matches against other club members of the same ranking. The Club with the most points wins this coveted trophy! Our players are always in top form as they look forward to winning. Let's keep the trophy at Woodbrooke Hills!
Tennis Banquet
This End of Season Banquet is a celebration and award ceremony with dinner and fun for all. Parents are encouraged to attend, so mark your calendars. The concluding event is tentatively scheduled for Tuesday, July 30, at 6 p.m.
---